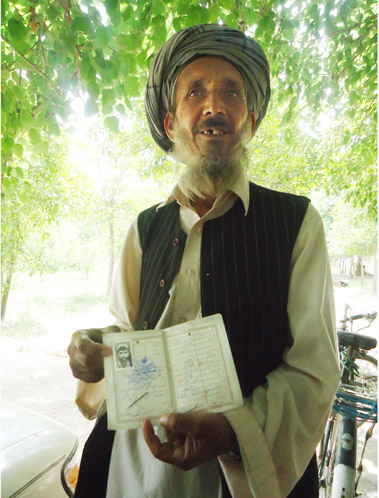 Muhammad Ishaq, 60, used to work on a box camera in Mukhaberat Chowk in Jalalabad near Bajazay mosque on a pavement under a banyan tree on the way towards the Sikh temple beside a cobbler called Shakir Mochi who still works there. He worked under the banyan tree for seventeen years; he worked in the eras of Zahir Shah, Sardar Daoud Khan, Mujahedin time, Taliban time and latterly during the persisting reign of President Muhammad Karzai.
Under the tree he has photographed soldiers, farmers, school children, war veterans, and a passing New York Times reporter.
Six years ago he was forced to move. The municipality wouldn't allow him to work on the pavement anymore. They called it 'illegal encroachment' and many box camera photographers in Jalalabad moved into other work around this time for the same reason.
Mr. Ishaq managed to find another pitch at the bus stand, soon after which he was offered a job taking photographs of welfare applicants for the committee for war affectees (Riyast-e-Mayoubeen). He took the job and in his new post continued to use the box camera - the same camera that was made for him forty years previously by a local carpenter. (He quotes the price of the camera in Pakistani rupees: nine hundred.)
Mr. Ishaq was taught how to use the camera at the age of fifteen. His teacher was his brother-in-law Zazai and they were both 'standing' photographers, that is, they worked only on the street and never owned a shop. Business was good, particularly in recent years when it was made compulsory for schoolchildren to get ID cards. He says he was taking "300... 400 ... 500!.. 600!!' photos on long days.
Mr. Ishaq has also worked in Jalozay refugee camp in Peshawar as a box camera photographer for fourteen years. He came back to Jalalabad after the fall of the communist government. During the Taliban times he continued to work on the box camera and only stopped using it two years ago. The reason being that the office where he has been working as a photographer had a notification from the higher authorities in Kabul not to accept black and white photographs any longer. So he bought a digital camera and started taking digital photos and he continues to work in the same office.
Mr. Ishaq is the only photographer in his family. His father's name is Feroz.
A gallery of Mr. Ishaq's photographs can be seen here.
Report with Kausar Hussain.