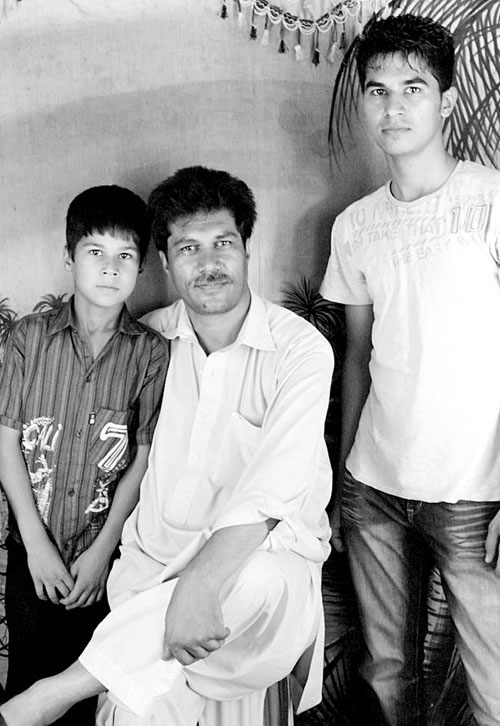 Kamal starting using a box camera in Kabul when he twelve years old. He was taught by his mother's brother, Ahmad Shah. Now thirty-eight, he owns his own photo shop beside the canal in the Afghan colony in Peshawar where he has been living for the past thirty years. His two sons (above with their father) regularly help him out in the shop.
When Kamal first came to Peshawar he worked with the kamra-e-faoree in Shahi Bagh, a nearby park, which was a popular spot for Afghan box camera photographers. There were many Afghan Mujahedin offices in the area at the time providing all kinds of documentation to Afghan refugees that needed identity photos attached so business was brisk. Sometimes if a customer liked a passport sized photo that he took, Kamal would enlarge it to 'jumbo' size (postcard size), and he regularly took family photos with several family members in the shot (see a video of the process here).
After one year of working in Shahi Bagh Kamal moved to the Afghan Colony and bought his present shop named after his father, Abdul Majeed. Shah Shaheed, another of his mother's brothers, worked on the opposite side of the canal on a box camera that he had brought from Kabul. Kamal's own kamra-e-faoree used to stand outside the studio to advertise his business after he moved from Shahi Bagh, but he mainly used a Yashica 120 film camera for business at the time. Nowadays, the box camera is absent from outside the store. Like Kamal remarks: "All things not computerised are gone".