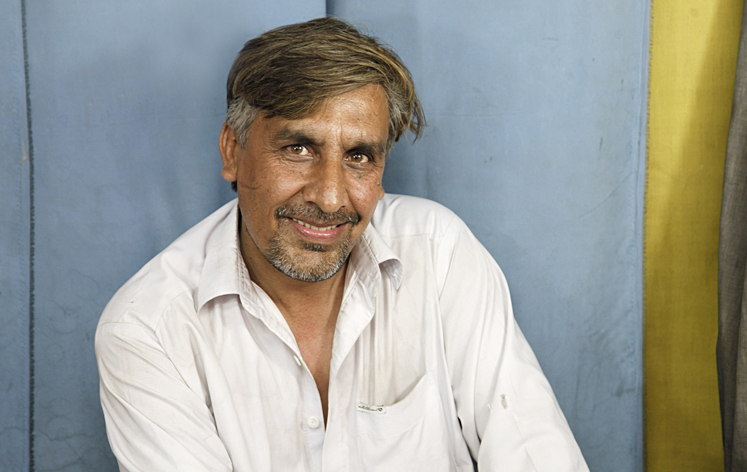 Daoud moved to Peshawar from Jalalabad, Afghanistan sixteen years ago.
On the walls of his studio on Cinema Rd., Peshawar, are the templates for the digital novelty montages he makes on his computer: Pushtun film stars toting guns and draping themselves with sultry damsels - not the kind of photographs his young customers who get their faces superimposed on top would readily share with their parents.
Because the Pakistani government has recently begun to employ its own in-office photographers to take identity photographs for official documents, the once-profitable passport photo business has rapidly declined for the likes of Daoud, so making montages like these is his main source of income. Being located on Cinema Rd., the 'entertainment street' of Peshawar, and home to three cinemas, he's well positioned to draw customers.
Yet that doesn't mean it's possible for us to take a portrait of Daoud in front of the montages. "These are for young people," he says, "I'm an old man." And so he sits in front of a milky blue backdrop to have his photograph taken.
Some forty years ago Daoud was taught photography by a Hindu in Jalalabad by the name of Hari Ram. He has worked, as he puts it himself in four "eras" of photography: black and white, handcolouring, colour film, and digital.
It is an occupation his father disapproved of.
"He wanted me to follow my own culture," says Daoud, and was unimpressed by the western clothing and modern fashions that seemed to him to go hand-in-hand with the work of a photographer.
Muslim photographers were also in the minority in Jalalabad.
Daoud remembers only three from when he was a teenager: Wajid, Daoud and Aziz. The rest were Hindus like Ramesh, Parkash Kumar and Sitaram, and the Sikh, Rajindgar. Some of the older Hindus like Doulat Ram, his teacher's teacher, used a box a camera. (And Daoud remember seeing a bellows lens - common in Pakistan - on a box camera once when he was a child.) But he didn't use one. "They were for poor people," he says, meaning the customers.
The studio he worked at in Jalalabad shared the same name as his Peshawar studio, Khyber Photo Studio. Business was good there, but the "situation" was not, he says. Having to think about the education and health of his ten children he and his family left Jalalabad for Peshawar.
"What did you do with all your old photos?" we asked.
"I burnt them," he said, "now I need this" and he swept his hand across a wall-full of film stars.